Top 10 best video editing software on computer for Youtuber
Written by
Deepak Bhagat
, In
Software
, Published On
April 14, 2022
,
636 Views
Here is the article you need if you need computer video editing software for YouTubers. Thanks to modern video editing software, YouTubers can comfortably create and YouTubers can easily create and edit videos at home using modern video editing software. The process is fairly straightforward.
If you are a beginner, choosing the right tool can be quite a headache. The number of tools available today is infinite, so it is important to choose a good tool based on certain criteria.
Criteria to choose computer video editing software for Youtuber
A good computer video editing software has full features from basic to advanced.
However, you need to define your purpose when making the video clearly. For example, if you just want to build a Youtube channel with videos that can be screened, choosing a cumbersome video editing software on your computer is not necessary.
On the contrary, it is not enough if you want to build a movie but choose small software. It is not possible to make a beautiful movie using only one software on the phone.
Documentation is significant from the moment you start to become a pro.
If you just study by yourself, it will take a lot of time. It would help if you read, have to practice as much as possible.
The best way to quickly succeed is to follow the instructional materials, specifically the videos taught by the predecessors.
It can be affirmed there is no free software that can be as good as paid software. If you are determined to pursue a professional video career, try to own a paid computer video editing software in some way.
In Vietnam, people always crack paid software and share it with you for free. However, find a reputable place, trust enough to use, avoid viruses or data theft.
Top 10 best video editing software on a computer for Youtuber
Video editing software on computer Camtasia
Camtasia is a video editor and screen recorder that works on Windows and MAC. This software is suitable for both beginners and professionals. Camtasia has a friendly interface, easy to see. You will not find it difficult when you first use it.
In addition to video editing, Camtasia is also a very good screen recording tool. You can create instructional and teaching videos right on your computer. Supports screen recording with 1080 resolution and unlimited recording time.
In addition to being full-featured and very easy to use, it is worth noting that there are many video tutorials on how to use Camtasia. This is really great and it is why you should choose Camtasia if you are new.
The price of Camtasia is $ 249.99. If you are a professional video maker, you should invest, and I'm sure you won't regret it. In Vietnam, most of them share the old cracked version of Camtasia. You can search on Google. However, choose carefully if you do not want to bring malicious code to your computer.
In my opinion, Camtasia is the most recommended video editing software on computers for Youtubers.
iMovie – video editing software on iOS and Macbook operating systems
iMovie is Apple's video editing software that works on devices and software manufactured by Apple. The software is free, so it's straightforward to use. iMovie allows video publishing up to 4K resolution.
Since this is free software, if you want a lot of features, you will be disappointed. Even so, since it costs nothing, why not give it a try?
VivaVideo – free video editing software on phones
VivaVideo is a free video editing tool on your phone with full features such as: crop video, join video, combine music, add icons, text to video, and many other great features.
VivaVideo is quite intuitive so it's very easy to use. And a plus is that it works both on Windows and Mac.
There have been over 100 million downloads for Android. If you follow many pretty girls, you've probably seen videos shot with VivaVideo.
Lightworks computer video editing software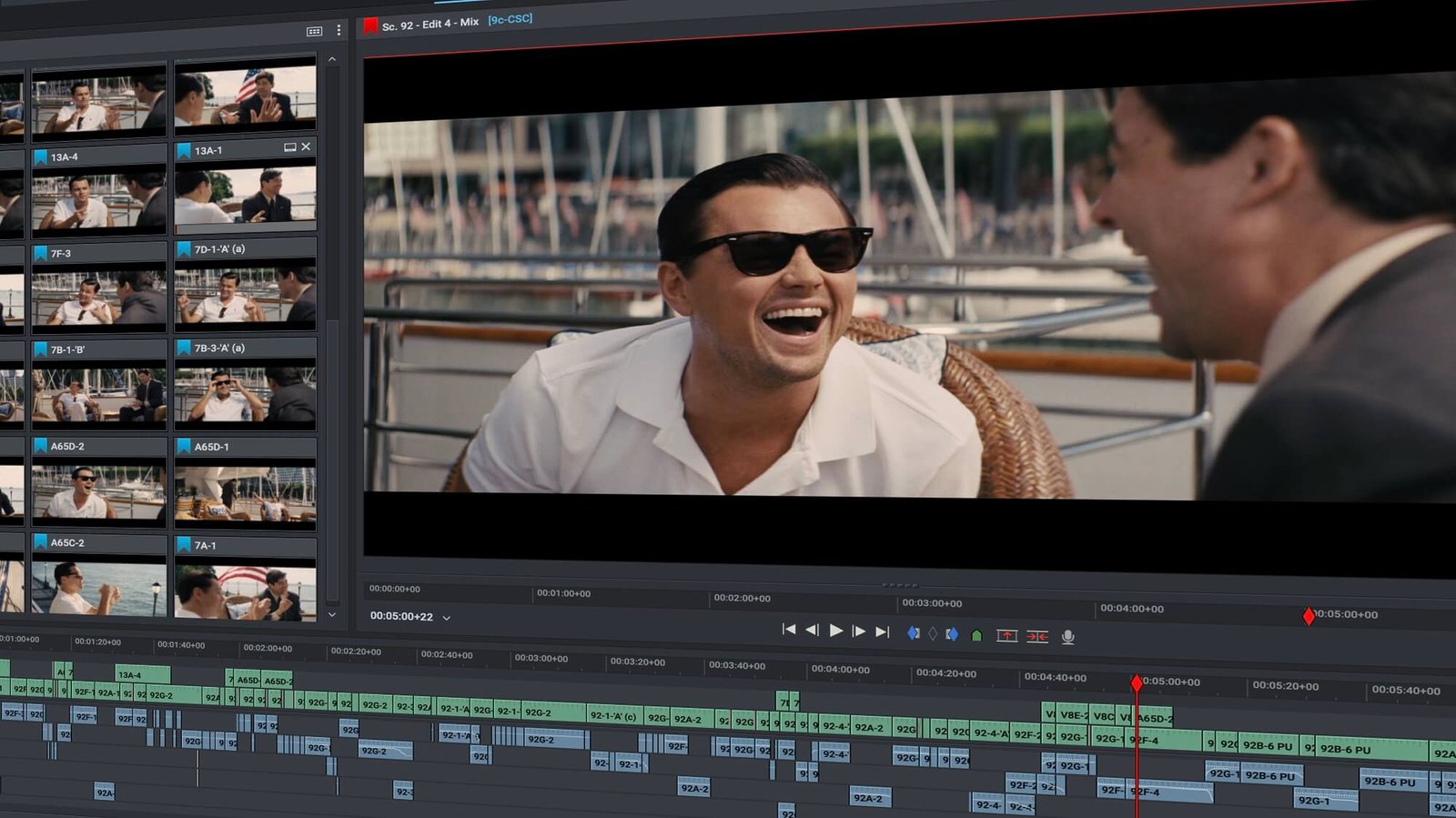 Lightworks works on Linux, Windows and Mac operating systems. This software has both a paid version and a premium version. The free version of Lightworks is considered the best free video editing tool.
You may not know that Lightworks is a big name in the movie editing industry. A viral movie edited by Lightworks is The Wolf of Wall Street.
Lightworks is one of the best desktop video editing software for professional YouTubers, so its toolkit looks terrible and unwieldy if you're not an expert.
The price of Lightworks for the paid version is $24.99/month.
Wevideo – online video editing software
Wevideo is an excellent online video editing software. With Wevideo, you do not need to install any software on your computer. All will work on the website of Wevideo. You need to create an account and use it.
Wevideo also has two free and paid versions. If you want to create a good and extended video, you must upgrade to a paid plan because the free version is pretty limited.
Proshow Producer – professional computer video editing software
Proshow Producer is professional movie-making software. I have had a long time to experience Proshow Producer, so I will evaluate this software according to my subjective opinion.
In terms of features, there is no doubt, that a lot of features from basic to advanced. You can feel free to learn because there are many manuals on Youtube. Proshow Producer's toolkit is very powerful.
I no longer use Proshow Producer because this software is very heavy, probably because it integrates too many functions. Learning and using Proshow Producer proficiently takes a lot of time, and I don't need something so terrible.
If you are determined to pursue a professional career, don't be afraid to spend time and even money to learn Proshow Producer, it's not a waste.
Primiere video editing software on PC
Adobe Primiere Pro is a computer video editing software developed by Adobe Systems. This software works both on Windows and Mac.
Adobe's interface is considered user-friendly. However, it is also quite difficult for newbies because its toolkit is very extensive.
Primiere is a computer video editing software for Youtuber that is quite popularly used by foreign Youtubers. In Vietnam, it is not much, partly because its price is quite high. Specifically:
If you buy annually and pay monthly, it will be $20.99/month.
If paid annually, it will be $239.88/year.
The monthly plan is $31.49/month.

Openshot
Openshot works on Windows, Linux, and Mac operating systems.
Openshot is video processing software with a fairly simple drag and drop interface. New users will probably like this feature because it is very easy to use.
The only minus point of Openshot is that the software is not very smooth. Often, lag is very frustrating for users.
Shotcut is a professional video editing tool but it is free and suitable for many different operating systems such as Windows, Mac, and Linux. Your job is just to download it and start using it.
Initially, Shotcut was only developed on Linux operating system, but now Windows and Mac users can also experience the best features of Shotcut.
Shotcut allows publishing videos with 4K resolution, which almost only paid computer video editing software has.
There are a variety of video formats available on this platform (in English, Spanish, Portuguese, German, French, Italian, Chinese).
FlexClip also provides you with background videos where you can add your creations. This is an interesting feature that allows you to produce high quality videos. How to do it? In Background Video, you can select a template. Then add the video and image you want to embed.
You can add text, effects, etc. Use your creativity to its fullest potential. Also, you can preview the final render before exporting it.
Want to tag your video so that your signature is recognized or to prevent others from using it without your permission? No problem. FlexClip gives you the ability to add a Watermark. You can customize this Watermark as you like, whether text or image.
Another great feature of FlexClip is the ability to choose a Template to design your video if you don't want to start from scratch. These are topic-specific videos that you can use. You are given the option to customize these videos and tailor them to your needs. There are many possibilities. With these templates, you can:
insert text
background change
more music
record your voice
add color filter
more photos.
In short: What is the best video editing software for Youtuber on a computer?
As listed above, at least 10 apps are good enough for you to edit videos for your Youtube channel. Depending on the purpose of use, the type of video you edit will have the right software for you. Specifically:
If you want to create screencast videos, then Camtasia is the first choice.
For those who want to edit videos online without installing troublesome software, Wevideo is an irreplaceable choice.
If you use Apple products and only need simple editing, iMovie should be enough to meet your requirements.
If you want to make movies, then Lightworks is the perfect software.
If you want to record a video and then cut and insert music into the video, then VivaVideo may be enough to satisfy you.
Similarly, choose other software suitable for your purposes. Please share the software you are using by leaving a comment below.
I hope you find video editing software on your computer soon and become a hot Youtuber!!!