7 Lifehack apps that will transform the way you live
Written by
Deepak Bhagat
, In
Apps
, Published On
April 27, 2022
,
460 Views
Procrastination is a devil that all of us are well familiar with. How many times have you experienced this slump where you couldn't for the life of you finish a task, no matter how aware you were of its vitality? Sounds relatable? Well, then there is good news for all of us. Technology, much like every other area of daily human life, has set out to solve this problem as well. And in the process, it has come up with life hack apps that can give you the necessary push to get your mess sorted!
Our lifestyle very much resembles the way an escape room functions. Little puzzle pieces come together to create a bigger picture, and you cannot progress unless you solve all the smaller riddles one by one. And just like you can get stuck in a loop inside an escape room, in life, too, things can seem to come to a standstill after you thought you were making progress. And this is where gamemasters come in with clues to help in the former scenario, and these 7 life hack apps come for the latter.
7 Lifehack apps that will transform the way you live
Have you ever had a plan ruined completely because of unexpectedly bad weather? Maybe a canceled date due to sudden rain? Or is an amazing open-air party going to waste because of incessant snowfall? If yes, then you would know how important it is to get weather forecast updates before planning any big day.
The fantastic Dark Sky app is well-equipped to ensure that you stay updated about the weather at every step. In fact, this app takes it to the next level by providing you with weather updates for about every second of your life!
In keeping up with our incredibly fast-paced lives, we often forget to pay enough attention to our spiritual health and wellness. With work piling up evermore on your desk, so does the level of anxiety and stress on your mind. To clear the clutter of your stress and anxiety, start using this amazing app from today!
Headspace is an intuitive and unique app that can easily guide you through an easy meditation practice that has the power of releasing all stress and anxiety from you. In return, all this app asks for is ten minutes from your hectic schedule of life, and given that time, the app will guide you towards a spiritually healthy lifestyle!
There have been several occasions when you bought all those fresh veggies from the market and stuffed your refrigerator with them. You have always hoped to use those vegetables and turn up something fresh and healthy for your breakfast table. But truth be told, those veggies have never really left the freezer! Well, if you want to step into a healthier life, the time is now. Hello Fresh as just dropped in as your savior from this sticky situation.
This incredible meal kit delivery app works by delivering chef-approved meal kits right at your doorstep. Gone are the days when you had to search for healthy recipes and cook them. Instead, all you have to do now is install this healthy app and start ordering! There are even meal plans based on the number of members in your family or the number of recipes you want every week. So, choose according to your desires and wait for your food to arrive!
Honestly, all of us are always on the lookout for free things, and so is this app. CreativeLIVE is an amazing free app for all those people who wish to learn new things but do not want to spend any or much money on the same. It is a unique business that aims to offer free online live classes for users to join.
Anyone who wishes to keep a recording of these online classes can always join in for the premium version by making a one-time down payment. This intuitive app offers tutorials covering a wide range of topics, from photography to business marketing. So, install this app now and tune in to a suitable class of your choice.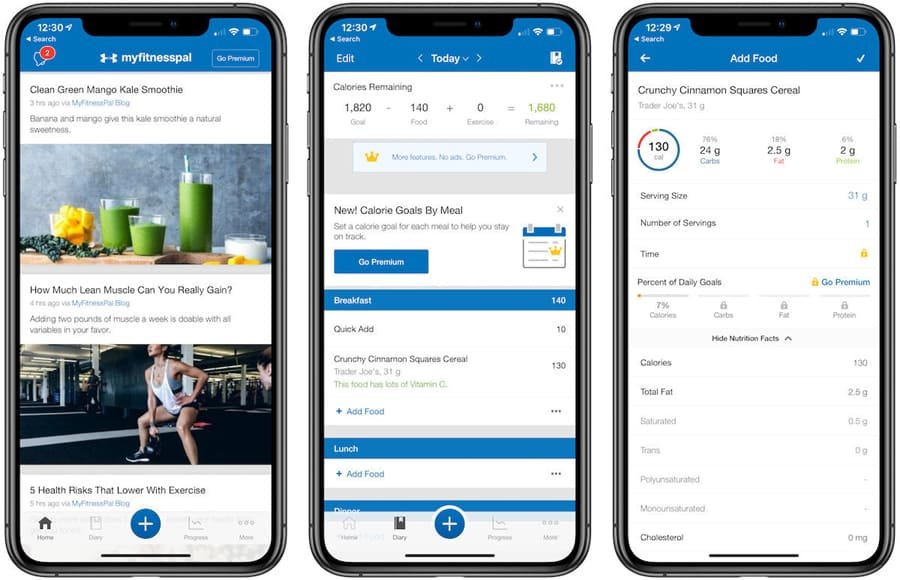 Alongside ensuring that you eat healthy food every day, it is also essential that you burn any extra calories that you might have gained. While there might be several incredible apps available these days to help you keep track of your fitness levels, MyFitnessPal is probably the best one for you!
This health and fitness app has become fast popular amongst people all across the world. MyFitnessPal works as a free app that not only maintains a record of your calorie intake but also records the number of calories that you have burned. For people who wish to track both their calorie input and output, there can be nothing better than using this app!
We often end up creating so many unique and different to-do lists that it seems so confusing and messy. Over time these to-do lists continue to grow bigger and more complex. But with the help of Wunderlist, all your to-do lists are now going to fall in place.
It works as a free app that lets users create as many to-do lists as they want and even categorize them neatly to keep them organized. Using this amazing app, you can now stack up all your lists into categories like personal, work, and others.
Now there have surely been countless times when you had a crazy question come up to your mind, to which you had no answer. Well, to answer your crazy doubts and queries, you must install the Quora app on your device now!
It is amazing how Quora always has one or more answers ready to solve your doubts in no time. Unlike any other Q&A platform, Quora provides you answers from authentic people from across the globe. Quora, however, works as a multifaceted platform. While many use it to find answers to their queries, others use it to build their audience base or gather potential customers!
You now have before you the entire list of 7 lifehack apps that are all designed to make your life so much easier than ever before. So, install these amazing apps today and enjoy all their benefits!